Making Money
Financial Health
13 Ways
to Make Money from Home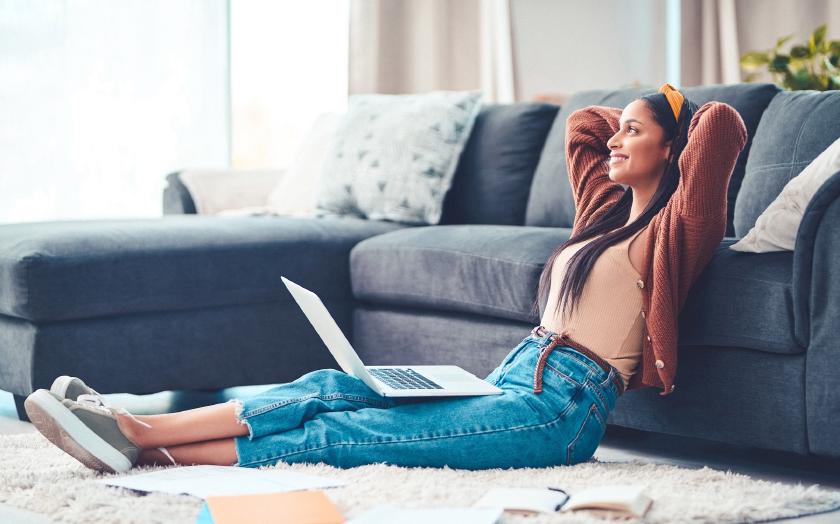 If you got downright cozy being at home more than usual the last two years, we don't blame you. One of the few nice things about the Covid-19 pandemic is it gave many of us a chance to beat rush hour traffic, start our days off a little easier, and best of all, work in sweatpants (we aren't judging!)
Now, more than ever, there are things you can do to earn money working from home.
Pro tip: Whether you're getting paid online or earning cash, load funds onto your Control Card1 to stay on top of your finances and always have money on hand when you're out and about.
Here are 13 ways to make money working from home.
Earn money tutoring
Got a real feel for fractions? Looking to leverage that college English degree? Offer up your services as a tutor and earn some extra money in the process. Students can hop on a Zoom call from basically anywhere on the planet to bask in your brain power, and assignments can be handled over email. Or start a study group on a specific subject for students in the neighborhood. You'll earn more money in one shot and keep the kids busy and out of trouble. Even if you aren't regular old 'book smart', you can just as easily deliver lessons on any skill you've got. Everything from playing an instrument and learning a new language to teaching someone how to drive or crochet.
Write, edit, or proofread and make extra cash
Good writers are hard to find. If you have a way with words, flex your wordsmith superpower and help others get their sentences in A+ shape. Offer to proofread college kids' essays, start a virtual resume writing and editing service, or look online for freelance writing gigs you can do from anywhere (yes, even from that fly Airbnb you were thinking of booking for a mini-vacation next week).
Crafting and selling online and increase your income
Etsy has helped take artisans from snoozy neighborhood craft shows to bona fide business owners. Get your craft on and start selling your wares on Etsy for a money-making opportunity that taps into your creativity and business smarts. Best of all, you control how much work you do. Need a break? Running low on stock? Simply push pause on your storefront. And if digital selling isn't your thing, you can still roll up a table at your local craft sales, old school style.
Earn extra money by running a resale store on second-hand marketplaces
Second-hand marketplaces like Poshmark, Depop, Mercari, and more were founded on the idea that everyone can make money from their closet, while also being kinder to the planet by giving gently used clothes a second life. But some hustlers have found a way to make second-hand selling a real business, either by purchasing a pallet of clothing from a retailer, or by simply scouring garage sales and charity shops for in-demand labels and perfectly preserved garments. Buy low and flip your fashion finds online to make some high fashion dollars in no time.
Babysitting
After years of balancing childcare, homeschooling, and working, parents who are heading back to the office are definitely on the hunt for affordable childcare. Go all-in with an at-home daycare service, or simply offer to look after the neighbor's kids after school until their parents get home. Whatever the case, if you love the littles, babysitting is an easy way to earn money to play, snack, and have lots of laughs.
Vacation rental host and earn extra funds
Got a spare room? A guesthouse? Maybe even a shed or garage you can convert? Whatever the case, putting up some spare space in your home on vacation rental sites is an easy way to earn funds without having to do much at all. Manage your bookings, keep things tidy, play host where necessary, and you'll get money just for renting out space you're not really using anyway.
Virtual assistant
If you don't want to head into the office but you sorta, kinda miss the idea of a structured day or just getting things organized, a virtual assistant job can be a great way to get office vibes from home. Virtual assistants typically work flexible hours and are responsible for doing basic admin tasks. Best of all, you can pick a virtual assistant job in a field you're interested in – from real estate and business leaders to health care and legal firms.
Translator
Put that second (or third) language to good use and get on the translation bus. Quality translators are needed all over the world, as businesses expand their reach into new markets. Publishers, marketing agencies, and software companies are just a few of the sectors that regularly hire translators. So long as you can prove you've got a solid grasp of a language, the entire world is ready for your gift of international gab.
Refurbish, restore, and repair
Handy folks can make a killing by giving new life to old items. Scour online marketplaces like Facebook or Craigslist, visit garage sales, estate sales, and charity shops, and look for online 'Buy Nothing' groups. Whether you're repairing electronics, reupholstering vintage couches, mending designer clothes, or refinishing an old piece of furniture, there are endless ways to upcycle one person's trash into another person's treasure – while lining your pockets doing something you love.
Sell collectibles and add to your income
eBay has long been a collector's paradise for anyone trying to hunt down a beloved item. Just like with reselling clothes and restoring furniture, a market also exists for those who have a gift for finding highly desired collectibles and offering them on eBay or other collector's marketplaces. Try visiting flea markets and estate sales to find your loot, do research on the spot to assess an item's value, and get listing (and earning cash) from home.
Pet sitter / house sitter
So, one of these jobs may not involve you staying at home, but it does involve staying at a home if you're hired to housesit and actually live on the premises. Being a pet sitter or house sitter is a cool way to shake up your every day while doing relatively little. It might not make for full-time income, unless you establish a strong referral network or market yourself online. Pro tip: Most insurance companies require people to have their house looked at every 3-4 days when someone is away. Try reaching out to people who winter somewhere warmer to earn steady income all season long.
Become a Photographer and earn some extra cash
Snapping photos is the ultimate side hustle, especially with the advancement of camera technology to be way more user friendly than the days of film and manual lenses. And while taking pictures typically involves getting out in the world, apart from shooting, most photography work can be done at home from there. If getting out and about isn't a regular option, or you're wary of giving up your weekends for wedding gigs, you can even start a stock photography business. Buy props, set up attractive displays, and snap photos people are looking for on popular stock photo sites.
Run an online store
Pretty much anyone can open an ecommerce site these days, particularly with ecommerce platforms like Shopify and Wix. And most ecommerce sites can easily start out of your home, whether you're making stock or purchasing it for resale. If you really want to simplify things, you can even start a fulfillment by Amazon business, tapping into the ecommerce giant's logistics network to take care of packing, shipping, and returns for your products.
These are just a few ways to make money on your terms, from home. The pandemic has made it easier than ever for almost anyone to get a gig going without ever having to go into an office. Depending on how you're getting paid, you can even set up direct deposits to go right onto your Control™ Prepaid Mastercard® so you've always got your funds ready to spend, no old fashioned paycheck necessary.