Welcome to the
Control Artist Card Series

and

Our Limited-Edition Detour Card
Elevating Black voices and perspectives. That's the idea behind the Control Limited Edition Artist Series Card. We're investing in the Black Community, partnering with a different artist each quarter for a design we'll put on a card that will be available to order for a limited time only. We hope this investment and the compelling card designs they produce provide a source of empowerment and inspiration to the Black Community. Our first Artist Series Card design was created by Denver-based artist, Detour.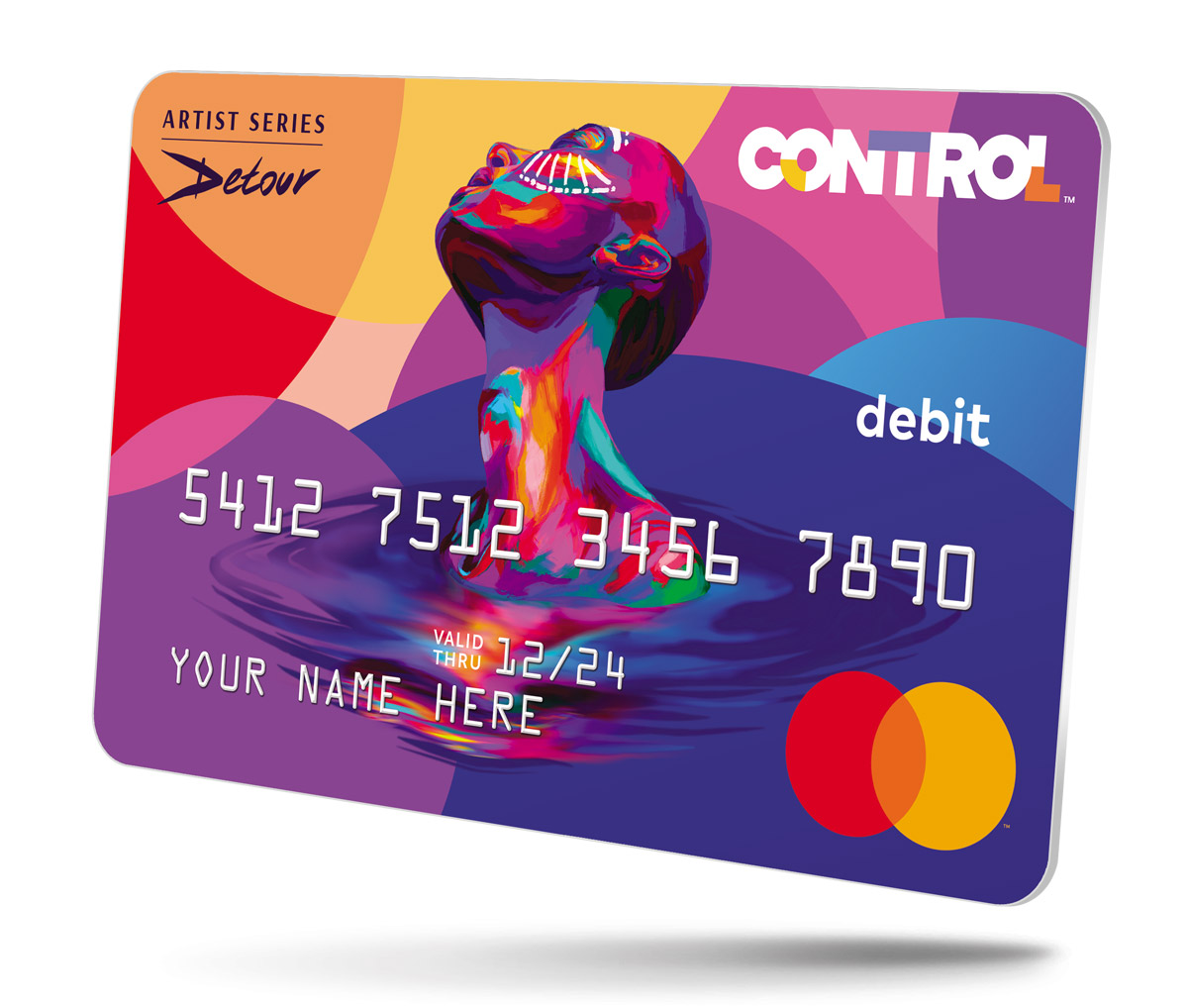 Artist Bio:
Thomas Evans, a.k.a. Detour, is an all-around creative specializing in large scale public art, interactive visuals, portraiture, immersive spaces, and creative directing. His focus is to create work where art and innovation meet. A born collaborator and "military brat," Detour pulls from every conceivable experience that shapes his landscapes and perspectives.
Explaining Detour's work is no easy task, as ongoing experimentations in visual art, music, and interactive technologies have his practice continually expanding. With his ever-evolving approach to art, Detour's focus is on expanding customary views of creativity and challenging fine-art paradigms by mixing traditional mediums with new approaches—all the while opening up the creative process from that of a singular artist, to one that thrives on multi-layered collaboration and viewer participation.
Working out of his kitchen, creating art for himself, Detour has transitioned to full-time visual arts, specializing in large-scale paintings as well as indoor/outdoor murals. Detour's focus is deeply connected to his affiliation with the community and therefore his works are the reflection of the urban art culture of minorities and urban subjects.
Most recently, he has painted murals for George Floyd, Breonna Taylor and Elijah McClain. And he has also authored the book, "Be the Artist: The Interactive Guide To A Lasting Art Career," to help other aspiring artists.
Detour continues to work in many mediums while now teaching others aspiring artists how to navigate the rough waters of the art industry.
Artist Statement:
"This artwork is from the Gods of Color series that explore the boundaries of color and narrative. Because color can be used to convey many emotions and feelings, I explore the idea of using color to create abstract narratives through surreal imagery and allow the viewer to create their own story about the composition."