How Blavity Pushed Their Way to The Top &
What You Can Learn from It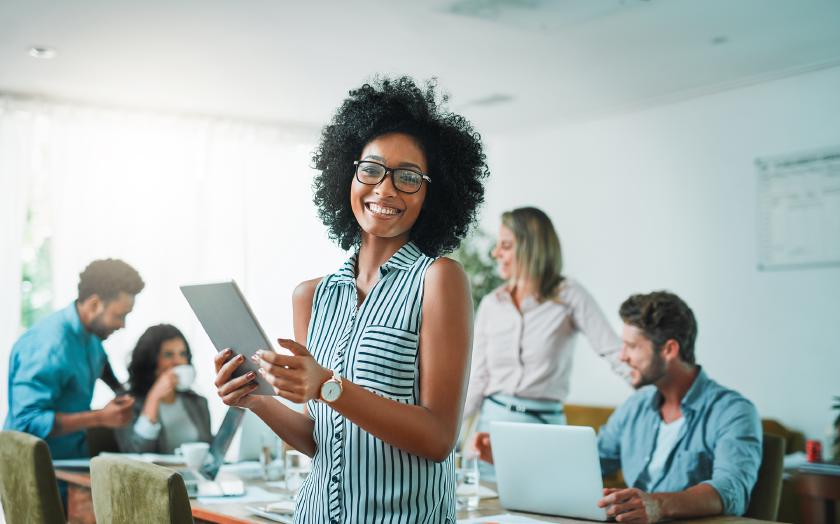 Remember when the idea of a successful, minority-owned business targeted solely to a multicultural audience felt like a far-off dream? A near impossibility? Not anymore.
The current startup scene is as colorful as Tyler, the Creator's closet, and the rewards as rich as Rick Ross' chains.
Today, African Americans are behind some of the biggest and most influential companies including Blavity, a unicorn in the media and technology world—not only documenting Black culture, but becoming Black culture.
It was all a dream…
Those dreamers were Morgan DeBaun, the founder and CEO, and cofounders, Jonathan Jackson, Jeff Nelson, and Aaron Samuels. The dream was Blavity, an American media and tech company that publishes content geared towards Black Millennials. And it emerged to give Black creators and innovators an opportunity to produce, share and consume compelling, raw content that accurately represents the Black community.
When Blavity first began in 2014, the world was upside down. Trayvon Martin was hunted down and Mike Brown was executed. The Black community wanted to be heard but the politicians weren't listening and the national news outlets were trying to tell the black story. Blavity gave Black people a chance to control their life's narratives in more than 140 characters (or 280 characters today), and focused on subcultures, community news, and local happenings rather than celebrity commentary and gossip.
In 2020, Blavity is a leading media platform for 18-34 year old multicultural influencers that reaches 3 million millennials every month. Here's some lessons we learned from Blavity on how to beat the odds:
Find your community family.

This isn't a new concept. Almost 30 years ago, four Black men started selling FUBU hats on the streets of Hollis, Queens to eventually gross $350MM at their peak. Or even a few months ago, when two Harvard students of color running for student government rallied their friends to make a campaign video that went viral and broke stereotypes (oh, and they won too).

As human beings we seek and gravitate to our support network, just like Blavity's founders did around a cafeteria table at Washington University. If you've got a big idea, find friends with skills that complement your own, colleagues you can trust, mentors that can guide you and allies that will push you. And there is a good chance that others are just waiting for you to lead the way.

You don't have to be first to be original.

The Black press started more than 190 years ago. Black Twitter was already a thing by 2010. Medium.com and other platforms had already made "social journalism" a mainstay by 2012.

With nearly 60 percent of their content being user-generated, Blavity found a way to bring it all together and create a "community for Black creativity." Sometimes a great idea borrows, morphs and adapts from other places and times to create something truly original.

Start today.

There's always going to be something in the way. Morgan DeBaun and her friends quit their corporate jobs and sacrificed salaries. But there are always bills to pay, family responsibilities, lost sleep and let's not forget the crippling fear of failing.

We won't lie, fulfilling your dreams requires a lot of hard work and sacrifice. But if you cultivate the inner confidence and courage and tap into your passion as a source of energy, you can push through. Get into the habit of saving, investing and relinquishing short term pleasure for long-term gains. And start today!

Trust the intention.

Blavity is not without its critics. Like J. Cole is to hip-hop, detractors argue "Blavity Black" is for the progressive, self-righteous and privileged—not ALL Black voices.

And yeah, maybe "diversity" isn't so black and white?! But whether they are right or not, Blavity's founders saw a gap that needed filling, believed in the intention to serve a greater purpose and created more opportunities for their people to be heard. Then, they grew from there.

Don't get comfortable.

Six years later, Blavity is more than a website. It's a media giant that also owns other sites: Travel Noire and Shadow & Act, the lifestyle brand 21Ninety, and AfroTech, a conference and playground for "blerds" to network, share and learn more about technology.

When you start to disrupt things, opportunities you didn't even know existed can appear. Always be ready for new adventures and don't forget to keep those doors open for the ones behind you.
Are you next?
Blavity is just one example of what happens when you dare to dream and are committed to the path. Blavity stumbled many times on their journey to success and chances are you will too. But once you win, that's what everyone will remember you as—a success story.
---
The opinions expressed in this article are the author's own and do not reflect the views of Pathward™, National Association, Member FDIC.